Check Out Our Award-Winning Home Renovations
Unfortunately, the Spring 2020 Parade of Homes Remodelers Showcase has been canceled due to the recent outbreak of COVID-19. At Ispiri, we value your health and hope that you are taking the actions necessary to stay safe in your community. Although our homes will not be featured in this year's Remodelers Showcase, we would still like to share our award-winning renovations as inspiration for your home.
Our Lakeside Retreat in Woodbury, MN
This late 1990s lakeside home has been lovingly taken care of for many years. Realizing their home was in need of an update, the current homeowners reached out to Ispiri for a revamp. In order to keep the homeowners feeling familiar and comfortable, they incorporated flairs of modern design into the original framework, mixing the old with the new.
Complement the Original, Update the Outdated
In order to make a difference in the daily lives of the homeowners while also maintaining original character, Ispiri targeted color as an opportunity to transform the aesthetic appeal. By replacing the flooring on the main level with an engineered, wide-plank Baroque Oak surface, Ispiri added warmth and created a more inviting atmosphere. Originality was preserved in the millwork as we attempted to unify the original maple with the new hardwood flooring, carpet, stair parts, and light fixtures.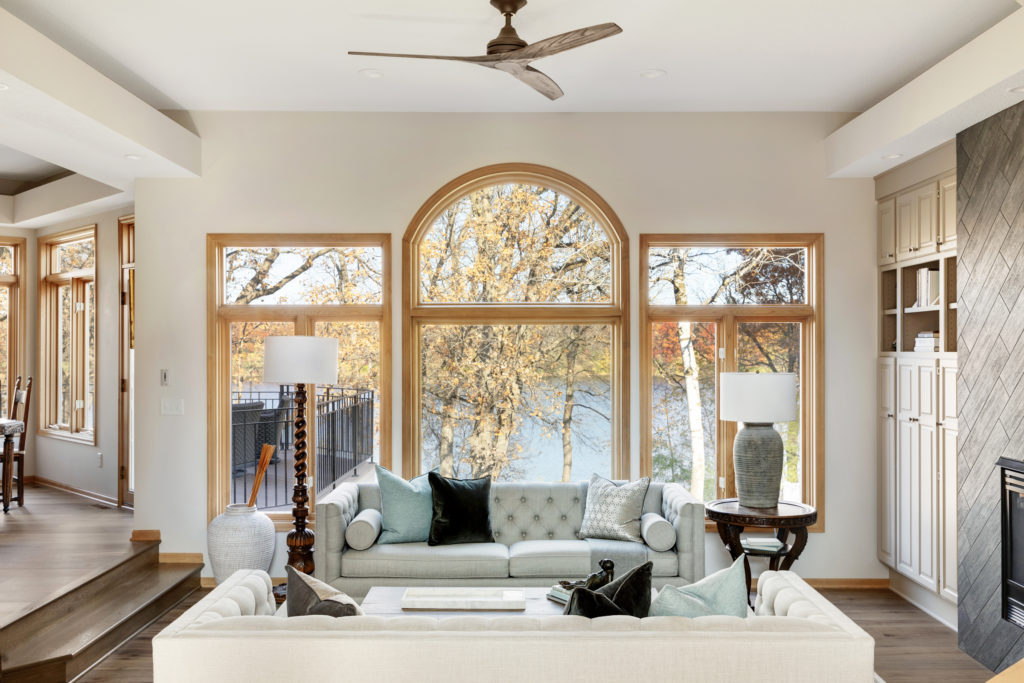 Relaxation With a View
This Woodbury home's idealistic location was an open opportunity to put emphasis on landscape. The master suite's new spa-like bathroom features a free-standing bathtub with wide windows that provide breathtaking views of the lake, adding to the relaxing aesthetic of soaking in the suds. We attempted to sustain the natural appeal of the home's location with wood tones and stone combinations that create an organic feeling. Featuring stained Knotty Alder cabinets, durable quartz countertops, and a see-through fireplace, this bathroom is the perfect getaway.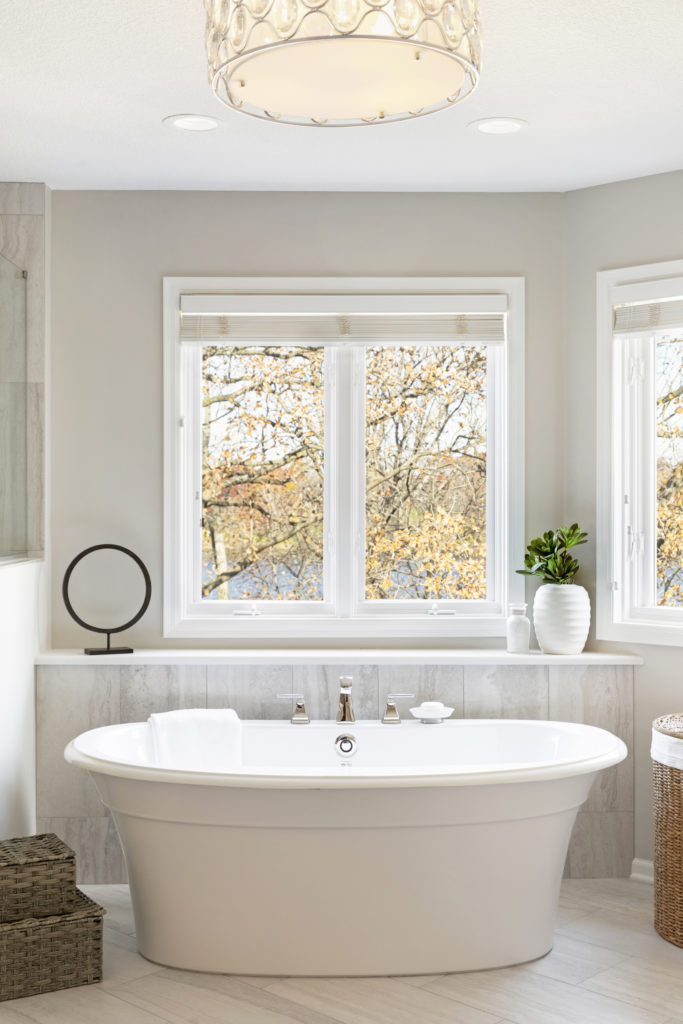 A Custom-Built Kitchen
To match the original color palette of the home and sustain the warm feeling, Ispiri created a two-toned kitchen that features a latte-colored perimeter and a Knotty Alder stained center island. The original design of the island was an awkward triangular shape, so it was redesigned into a large 9' rectangular island that features additional storage across the back and four bar stools for seating. To match the kitchen's island and bar's floating shelves, the hood is custom-designed with shiplap.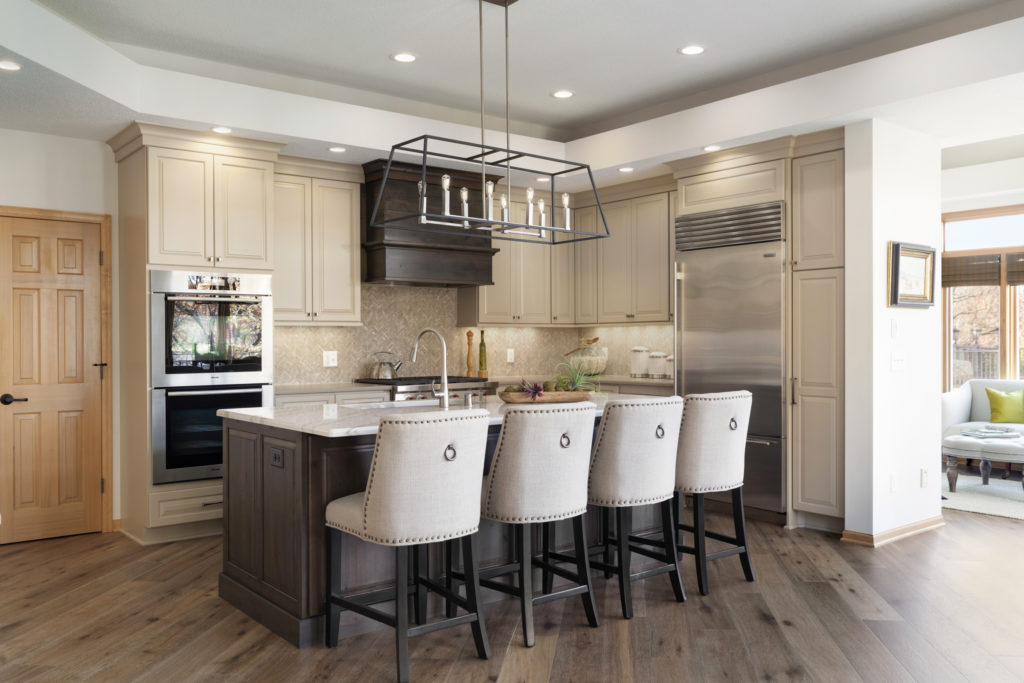 Learn more about this home renovation and explore our photo gallery.
Our Lake Elmo Award-Winning Rambler Remodel
On the shores of Lake Elmo lies this stunning 2002 rambler home, occupied by a family of four. When the residents of the home first approached Ispiri for a remodel, they raved about their lakeside setting but recognized that their home wasn't as functional as it could be for their family, especially when it came to the master bathroom, family room, dining room, and kitchen. In order to make the home more family friendly and update the home's interior design, a whole-home renovation was initiated that would add space, sunlight, and views of the lake to many rooms of the home.
The outcome of this whole-home renovation was remarkable, completely transforming the aesthetic of the house and highlighting its stunning location. Overall, the renovation resulted in a home that acts as a coastal retreat — one that provides a sense of tranquility and relaxation throughout. The remodel started to be recognized by local designers, receiving first place in the "Other Rooms" category of the NKBA Design Awards as well as the 2019 ROMA Award.
An Open and Bright Ambiance
To highlight the home's ideal location and brighten up its interior, Ispiri incorporated light wood tones, crisp white fixtures, shiplap finishes, and soft gray stonework. A wall of windows now overlooks the lake on one entire side of the home, drenching rooms with sunlight and offering a picturesque view. The added sunlight makes space feel larger and more comfortable — perfect for the home's open floor plan.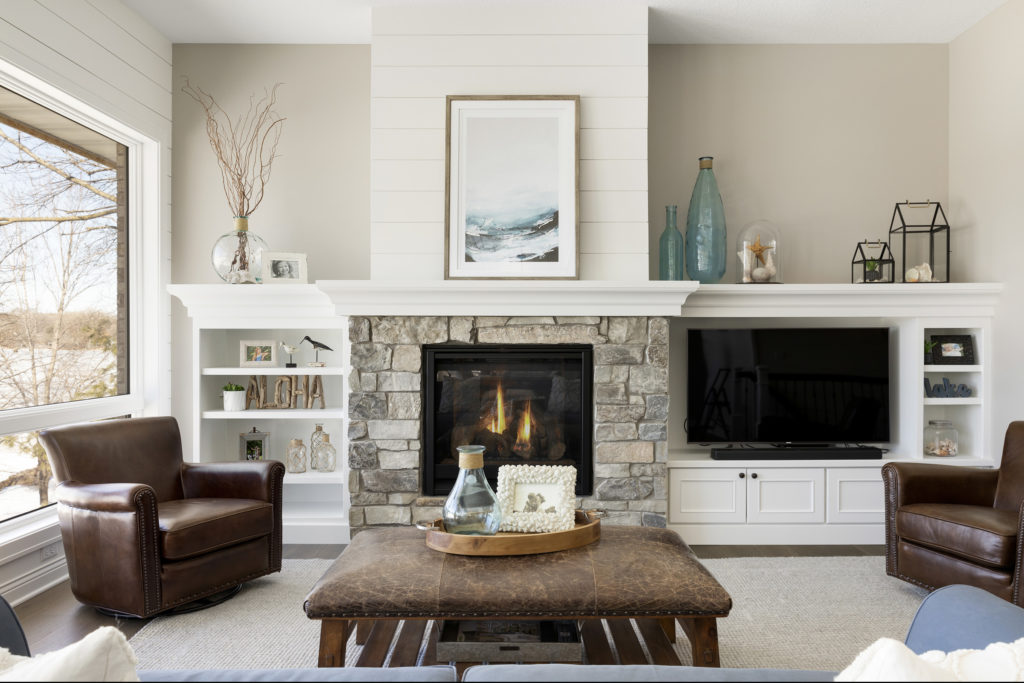 Radiance With A Touch of Rustic
This airy kitchen is fitted for any number of dwellers, featuring a dinette table ideal for family dinners. The generously sized island blends practicality and style with ample storage, along with sleek countertops that offer plenty of room for meal prep. Complete with a beverage center and espresso machine, this kitchen will provide the perfect start to any homeowner's day. The open-concept kitchen includes expansive views of the lake and easy access to the new mudroom and garage.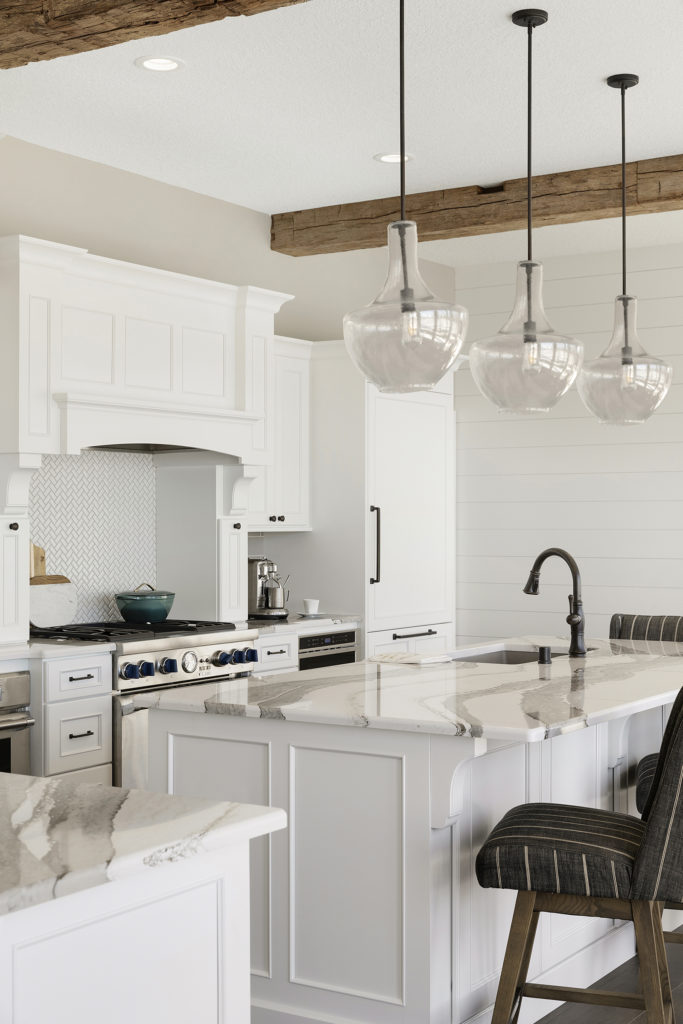 A Tranquil Retreat
Featuring a walk-in-closet, water closet, and wet room for the tub and shower, this master bathroom has it all. Enjoy a spa-like experience with plenty of floor space for his and her vanities, a large tall linen cabinet, and a makeup counter. The bright and airy glassed-in wet room combines a spacious shower and freestanding tub.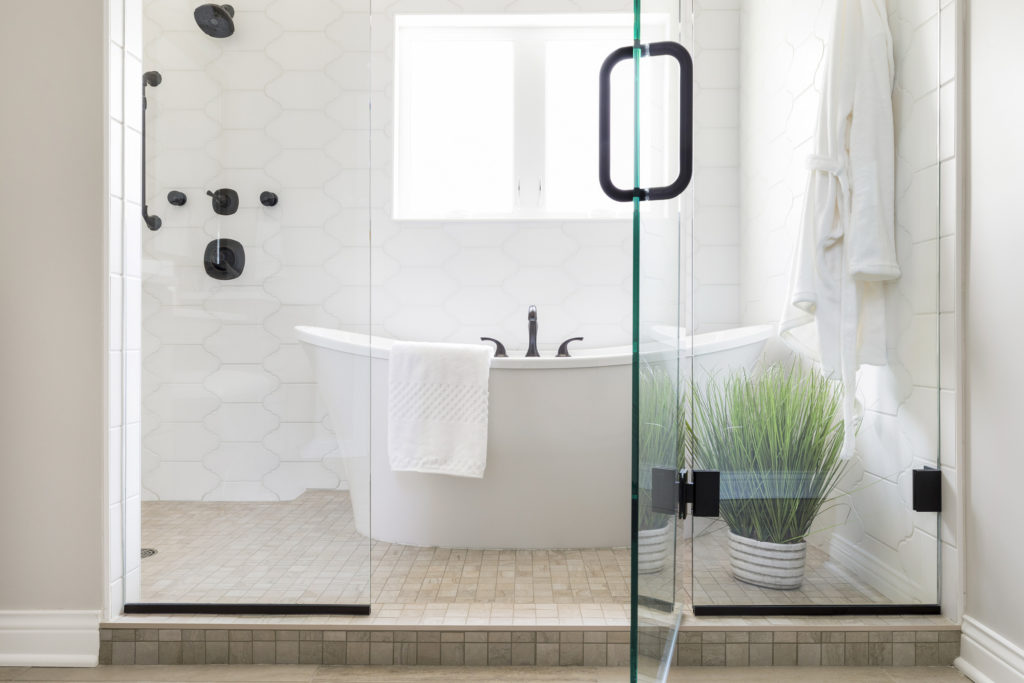 Learn more about this whole-home renovation and explore our photo gallery.
If you're interested in home renovations, call our team directly at (651) 964-3172 or visit our website.