Find Us
At Ispiri, it's important that we stay at the forefront of the remodeling industry's latest trends and techniques. That's why we're excited to announce we are hosting our own Ispiri events and attending a number of events near you. Make sure you find us at these events this year.
Edina Showroom Grand Opening
Join us as we celebrate the opening of our second Twin Cities showroom in Edina. Like our Woodbury showroom, the Edina location will serve as the perfect place to find inspiration for your next project. The space will feature design elements for every part of the home, offering the firsthand look at what it takes to plan a renovation that's uniquely yours.
The festivities kick off Friday, May 31st with the following agenda:
11 am: Ribbon-cutting by Edina Chamber of Commerce
4-8 pm: Grand opening celebration with hors d'eourves & cocktails
OPEN VISIT DATES:
Friday, May 31st: 8 am-7 pm
Saturday, June 1st: 10 am-7 pm
Sunday, June 2nd: 10 am-5 pm
LOCATION:
5009 France Ave,
Edina, MN 55410

Tickets
Minneapolis Home & Remodeling Show
U.S. BANK STADIUM – Booth# 234
DATES & HOURS FOR 2019
Friday, January 25, 10:00 am – 9:00 pm
Saturday, January 26, 10:00 am – 9:00 pm
Sunday, January 27, 10:00 am – 6:00 pm
ADMISSION
Adults (At the door) $12.00
Adults (Online) $10.00
Children Ages 6 – 12 $4.00
Children Ages 5 & Under FREE
Group Tickets (Minimum of 20 tickets) $8.00 each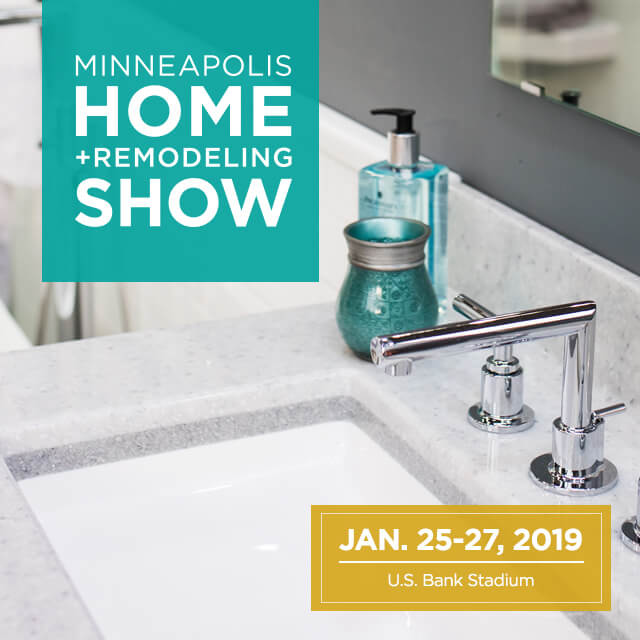 West Metro Home Remodeling Fair
Date: Sunday, February 10th from 10:30-3:00 p.m.
Location: Eisenhower Community Center

Remodelers Showcase
Remodelers Showcase
DATES:
Friday, March 29 – Sunday, March 31
12 – 6pm each day
LOCATIONS:
1593 Tamberwood Trail, Woodbury, MN 55125
542 Elaine Avenue, Shoreview, MN 55126
2277 Copperfield Drive, Mendota Heights, MN 55120
Woodbury Community Expo
Date: Saturday, March 30th @ 10:00 a.m.-4:00 p.m.
Location: East Ridge High School

Artisan Home Tour
Artisan Tour Information
DATES:
Friday, June 21 – Sunday, June 23
12 – 6pm each day
LOCATIONS:
60 Wildhurst Road, Excelsior 55331
9369 Jane Road N, Lake Elmo 55042