How to Make Your Bathroom Look Like a Spa: 6 Easy Ideas!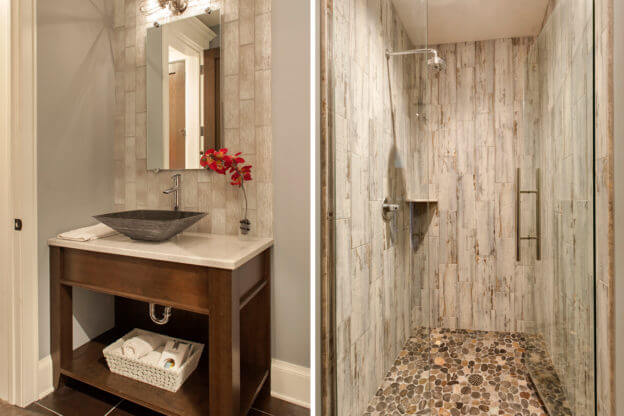 Who wouldn't love a daily trip to a spa? Investing in a spa-like bathroom remodel for your Minnesota home will not only save you the money spent on a spa trip, but also allow you to feel at peace and pampered every day! Your own bathroom offers the same space to relax and take a load off as any professional spa would, all you need is a few adjustments. If you're wondering how to make your bathroom look like a spa, here are six easy spa bathroom remodel ideas to turn your Minnesota home's bathroom into your own oasis.
MN Spa Bathroom Remodel Idea #1
Use a light color scheme
Setting the atmosphere for your MN spa bathroom remodel starts with the colors you choose. Earth tones are always a good choice — blues, greens, or sandy colors are more relaxing than harsher tones. Avoid patterns like checkers or stripes as these tend to present a more active atmosphere, and you want to keep your bathroom a sanctuary of peace!
MN Spa Bathroom Remodel Idea #2
Get a nice bathtub or shower head to pamper yourself
A bathtub or a shower is your personal preference, but any time you spend cleansing should be luxurious! Consider updating your current bathtub to a larger, customized tub that will fit your style and needs. Whether you are looking for a deeper bathtub that's not as wide or a large, luxurious tub with jets, there are plenty of options for warm, soothing soaks.
If tubs are not your thing, or you're looking for a simple update during your MN spa bathroom remodel, swap out your shower head. A rain shower head, like the name implies, acts like the natural fall of rain. There are also a variety of modern shower heads equipped with technology to create the ideal shower experience!
MN Spa Bathroom Remodel Idea #3
Towel warmers
Towel warmers have become a much more affordable luxury for bathrooms. They keep your towels warm and dry so you can feel comfortable and cozy after a shower or a bath, and can even be used to dry delicate fabrics!
MN Spa Bathroom Remodel Idea #4
Faux wood tile
Cool earth tones are a great way to make your bathroom feel calm, and adding wood will create a connection to nature and peace. Faux wood is a good MN spa bathroom remodel flooring choice, since it can withstand extreme humidity and has a higher resistance to water than real wood floors. You'll also have a wider variety of color and texture choices to fit in with your design preferences!
MN Spa Bathroom Remodel Idea #5
Minimize toiletries
Keeping decor and clutter to a minimum is a necessity in keeping stress levels down. Spas usually keep their toiletries hidden, so keeping yours in a closet or under the sink is a good solution.
If you so desire, you can store daily items in small glass jars to add to your decor.
MN Spa Bathroom Remodel Idea #6
Add your own personal luxury items
Don't forget your own personal items to help you create the most desirable atmosphere for your Minnesota home's spa bathroom remodel. Whether that includes indoor botanical plants, tealights, candles, rose petals, or essential oils, choose the items that will keep your environment as soothing and peaceful as possible!
Turn your ideas into reality. Contact the experts at Ispiri to learn more about how to make your bathroom like a spa, or to get started today!