Modern Wood Kitchen Renovation in Eagan
Creating a Sleek, Modern Wood Look
When this Eagan homeowner, an artist at heart, came to Ispiri, she envisioned modernizing her 1986 home's kitchen. On her wishlist were things like larger appliances, a beverage center area, and space to display sculptures and art pieces; all while staying within the original kitchen's footprint.
In addition to these physical changes, the homeowner also wanted to change aesthetics for her kitchen, from outdated to contemporary. We created a vision with sleek textiles such as oak wood and tile, and incorporated unique patterns into our plan.
Contact Us
With the final renovation plan in place, the Ispiri team got to work on this Eagan home's modern wood kitchen. Some challenges the team ran into during this project included finding areas in the existing walls to relocate hidden obstacles that were found in the kitchens' soffits, as well as incorporating larger appliances than what was there before.
To make more room in this modern wood kitchen design, Ispiri's solution involved filling in one window. This created an area to house the stove's cook-top and metal hood, and the perfect backdrop for a statement backsplash. Filling in the window didn't affect the lighting in the room. In fact, it made the kitchen feel even more open and spacious.
What truly made this a modern wood kitchen was the sleek vertical graining in the white oak cabinetry, contrasted with the dark bottom cabinets. The wood look was made even more modern, paired with stainless steel appliances and a waterfall edge countertop.
Plenty of Space for Art
Wall niches with glass doors
Linear display shelf over the refrigerator and pantry
Keeping Things In Line
Straight lines repeated throughout the modern wood kitchen design
Horizontal lines found in the carrier piece above the hood
Let In the Light
Large, modern wood-framed kitchen windows
Ornately patterned statement backsplash
NKBA Design Award 2019
Most Dramatic Transformation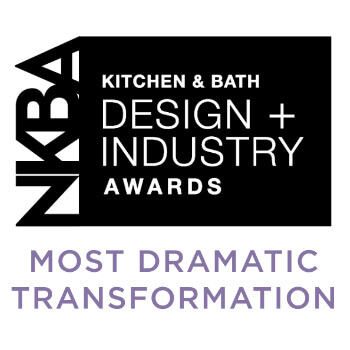 Get In Touch
Get in touch with our team and we'll get back to you soon.