Open Floor Plan For a Kitchen Remodel in Minnesota
For more than two decades, "open concept" has been a central aspect of home design and remodels. From home magazines to HGTV shows, open floor plans throughout the kitchen, dining and living spaces are a prevalent part of home design and remodels. But if you're looking to renovate your kitchen there are things you should take into consideration, especially living in Minnesota.
Pros of an Open Floor Plan Kitchen Remodel
Whether you want to remove walls from your currently enclosed kitchen or are looking to remodel an already open floor plan, there are plenty of pros when it comes to an open concept kitchen.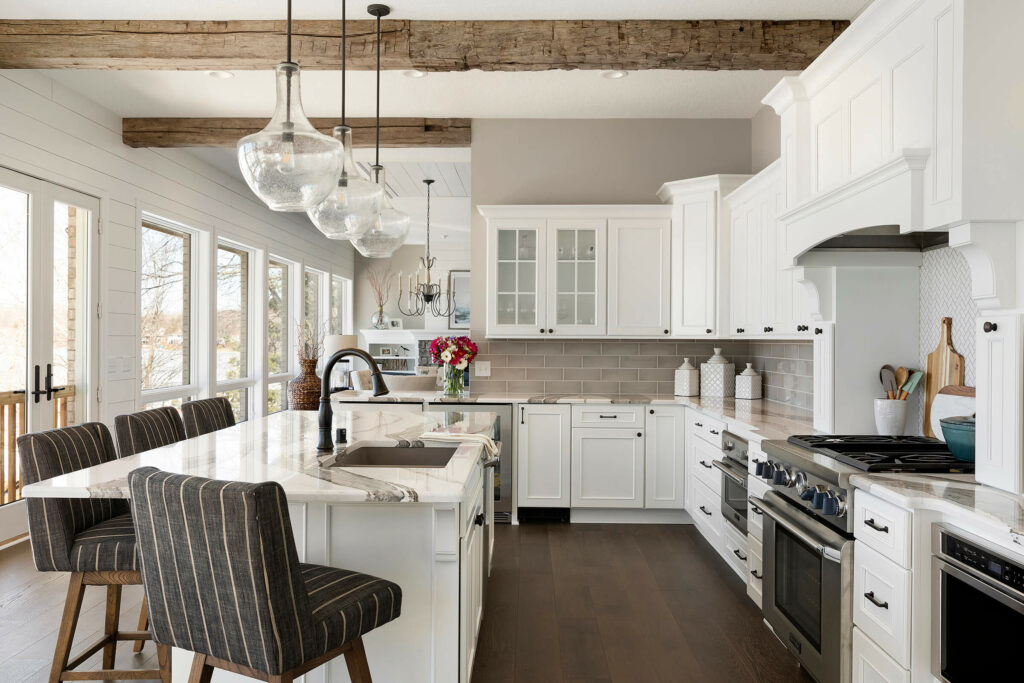 Makes Your Kitchen Feel Bigger
If your kitchen has always felt a little cramped or your family is expanding, an open floor plan remodel may be the perfect solution for your Minnesota home. Because the lack of walls gives you open sight lines out from the kitchen, the space will feel more open, even if you haven't added any square footage.
Open Floor Plan Kitchen Remodels Give You More Space
A few things happen to the physical space of an open floor plan kitchen when you remodel.
First, removing walls actually does give you a few inches of space because the average wall is around 3.5" deep. This isn't a large amount of space, but it can help, especially if your contractor is rearranging the kitchen to work better for your needs.
Second, by removing walls and opening the sight lines, the boundaries of where the kitchen ends and the adjacent space—often a living room or dining room—begins. An interior designer can help you to organize both spaces so that they work in tandem, giving you more area to play with for your kitchen needs.
Third, you and your designer may decide to expand the physical floorplan of the kitchen into the adjacent space, taking square footage from the adjacent room to add area to the kitchen.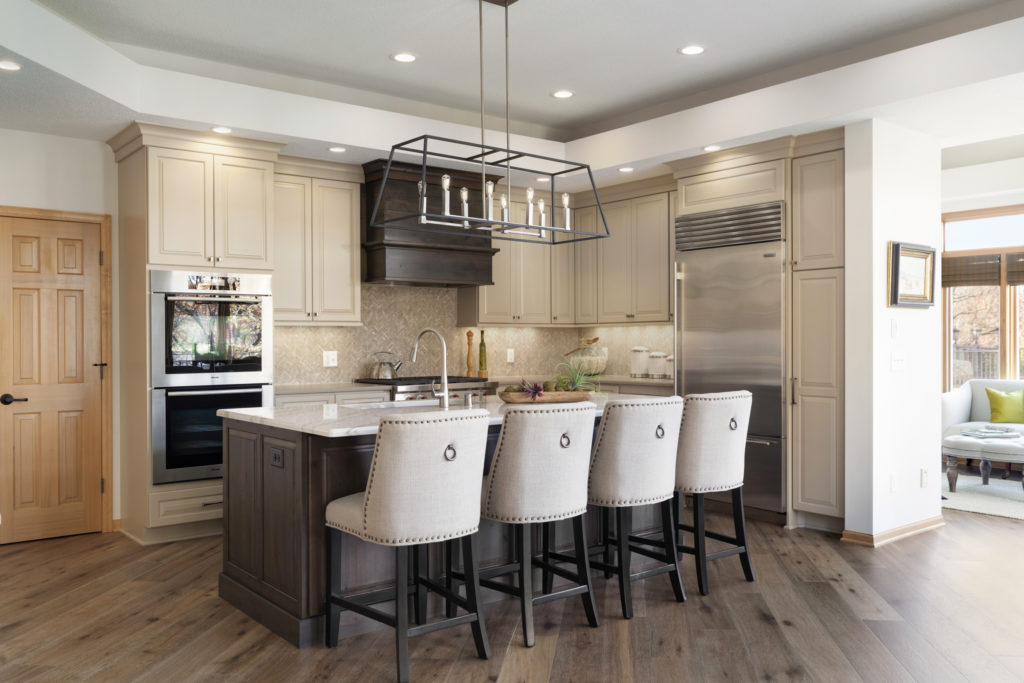 An Open Floor Plan Kitchen Remodel Becomes a Place to Entertain
The kitchen is the heart of the home, not only for the family, but guests as well. An open floor plan remodel makes the kitchen more inviting to guests and allows conversations and interactions to occur from there to adjacent spaces.
Minnesota kitchen remodels are a great way to make your home the perfect place for family gatherings. Our designers have successfully fulfilled our clients' dreams for an open kitchen layout time and time again. You can browse our past projects if you're looking for more inspiration.
Cons of an Open Floor Plan Kitchen Remodel
Of course, despite the pros and popularity of open floor plan kitchens, there are still cons to consider when planning a remodel.
You Can't Hide an Open Floor Plan Kitchen from Guests
Although the kitchen is often seen as an inviting space to entertain guests, a con is that it can't ever be hidden away from view. If you are someone who would rather have guests meet in common areas like the living or dining rooms so you can keep less view-worthy aspects of the home out of sight, an open kitchen may not be what you're looking for.
Everyone Can See Everything
The nice thing about a closed kitchen is that dirty dishes or pots and pans sitting out can be out of sight, out of mind. With an open kitchen, you will be able to see the dishes piling up or containers left on the counter, even when trying to relax in another room. Studies have even suggested more arguments can arise with an open floor plan kitchen if one member of the household feels they're cooking and cleaning more often than others, and they can see the other person relaxing while they're handling chores in the kitchen, so you should take that into consideration before remodeling.

An Open Floor Plan Kitchen Remodel Can Be Drafty
Living in colder climates such as Minnesota, it's important to discuss an open floor plan kitchen with an expert before deciding to move forward with the remodel. Walls provide extra insulation to interior spaces, so removing them in a portion of the house that is colder or harder to heat can lead to higher electricity bills or a colder, draftier space.
What's Right for You?
When thinking about an open floor plan kitchen remodel in Minnesota, it's important to work with an experienced designer. Meet with an expert to discuss what you're hoping to achieve from the remodel and consider the following:
How does your family live?
Other than cooking, what brings you to the kitchen?
How often are you eating together?
By understanding your goals and needs, an expert can take into consideration the layout you already have, where the kitchen will open into, and what design will help you achieve your goals and satisfy your needs.
Are you thinking an open floor plan kitchen is right for your Minnesota home remodel? Schedule a consultation with the design and renovation experts at Ispiri to get started with turning your house into a dream home.