10 Minnesota Dream Kitchen Must-Haves
Thinking about a modern dream kitchen remodel for your Minnesota home? Or are you already planning on a remodel job but want to make sure you've thought of everything? As you consider redoing your kitchen, use our list of 10 must-have features that add simple convenience and stunning, brag-worthy touches to the heart of your home.
From modern kitchen design essentials to hidden conveniences — we've thought of every kitchen remodel idea so you don't have to!
1. Walk-in pantry: Add luxurious convenience
A kitchen pantry with shelving for everything is non-negotiable — especially when you're already planning on a remodel. After all, anyone could tell you that once you add a walk-in pantry you'll wonder why you never got it sooner.
As you consider the layout of your pantry (yes, it has its own layout) keep these ideas in mind:
Room for pet food or feeding area
Space for larger cooking tools like slow cookers, griddles, pressure cookers, etc.
Racks or shelves for spices
Accessibility to basic cooking essentials and bulk needs
In-pantry mini-fridge space for pop, beer or other beverages
2. Custom cabinets: Find a place for everything
There are endless special cabinet features you can add to your kitchen or kitchenette during a remodel. Whether you add convenience, modern kitchen features or both is up to you! Just make sure to consult the experts and know ALL of your options before you make any final decisions when considering your dream kitchen ideas in Minnesota..
Special kitchen cabinet features you may want to consider:
No-slam cabinets
Pull-out spice cabinets
Deep sliding doors for pots and pans
Drawer dividers and separators
Custom cabinets built around appliances
Slide-down cabinets to hide your everyday tools like coffee machines
3. Colorful backsplash: Brighten up your space
Not only is a kitchen remodel an opportunity to add convenient features to your kitchen, it's also a way to add new color and texture to your home. But where should you start?
A backsplash is a perfect way to add color and character to your kitchen without going overboard.
Try to choose a modern backsplash in a tone or design that matches your dream kitchen vision. Then, build from there with subtle, complementary countertops and cabinet finishes. Take a look at some of our designs to spark inspiration in creating your modern dream kitchen in Minnesota.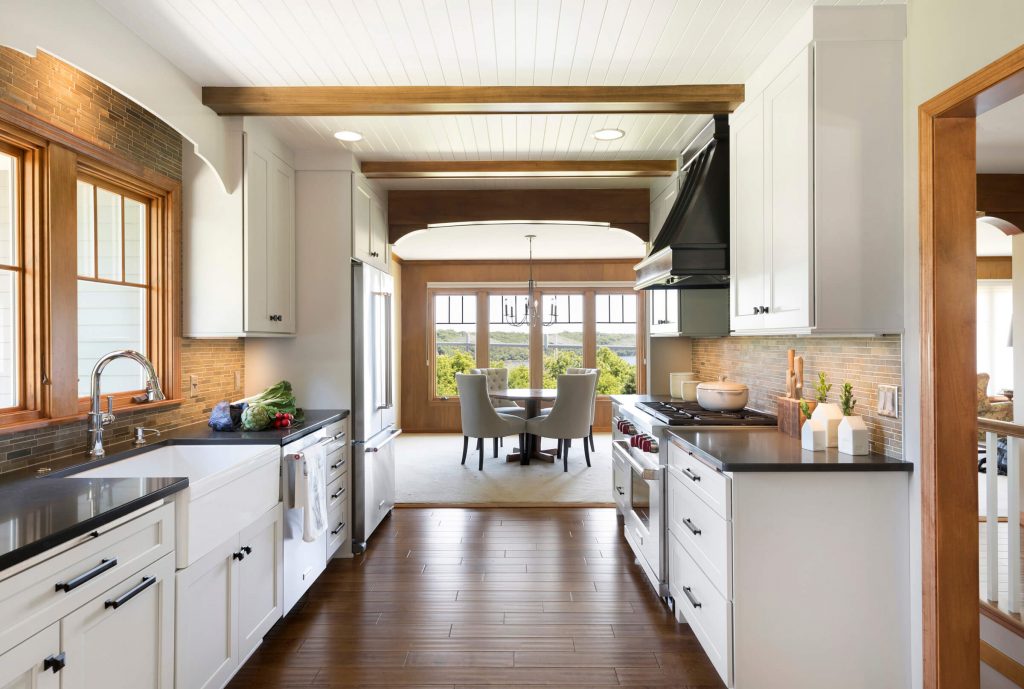 4. Custom layout: Be strategic in the heart of your home
Your kitchen is where you celebrate holidays and birthdays, start your morning routine, have family meals and most importantly, cherish time with the ones you love. Why not make it the perfect setting for all of the various events, big and small, that it will hold in its lifetime.
Plan the layout of your kitchen around how it can make your events and daily tasks simpler.
Try incorporating these modern dream kitchen musts into your layout as a starting point:
Added seating space or kitchenette nooks
Easy fridge access
Additional counter space for meal prep
Double-wide sink or expanded dishwasher
Open entryway to other living and hosting areas
Large windows for natural light
Take a look at what other ideas are trending in kitchen layout and design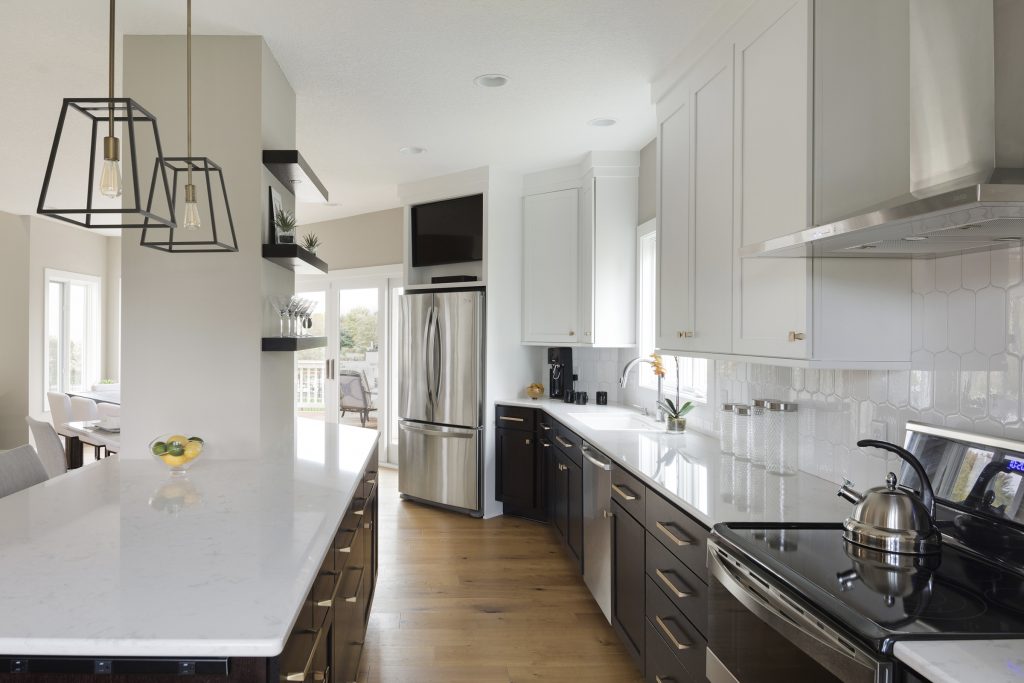 5. Built-in wine fridge: Treat yourself
Remodeling your kitchen into the luxurious envy of your neighborhood? Don't overlook adding a built-in wine fridge in your kitchen, pantry or added kitchenette space.
Consider adding an entire service area or extra counter and shelving space dedicated to hosting your cocktail-making tools. Go for a liquor cabinet, fancy wine-bottle shelving, cocktail-making supplies station and whatever else you need to impress every guest.
Take our recent St. Paul project (pictured below) to see just how easy this impressive space is to create right in your home!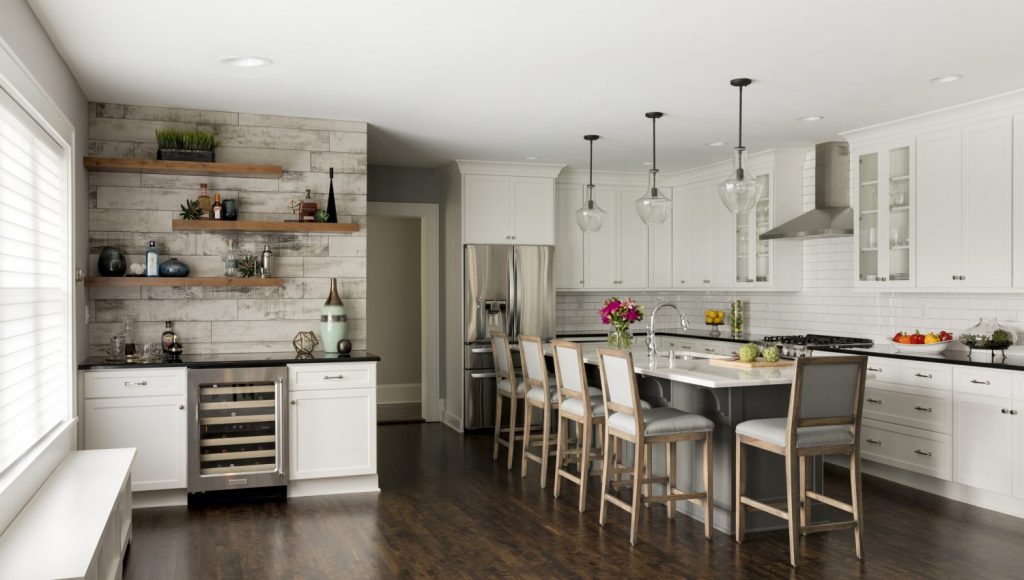 6. Goal countertops: Exceed your expectations
Every homeowner has countertop goals in mind when it comes to their dream kitchen must-haves. Countertop designs and styles are endless — from large room-for-everything countertops to chic materials that set the tone for the entire kitchen.
Pro tip: The trick is to find an interior design and build team that can complement your countertop dreams with the right layout and design aesthetic, especially while fitting them into everything else your home remodel requires. To meet your loftiest countertop goals, you need to hire a highly recommended expert.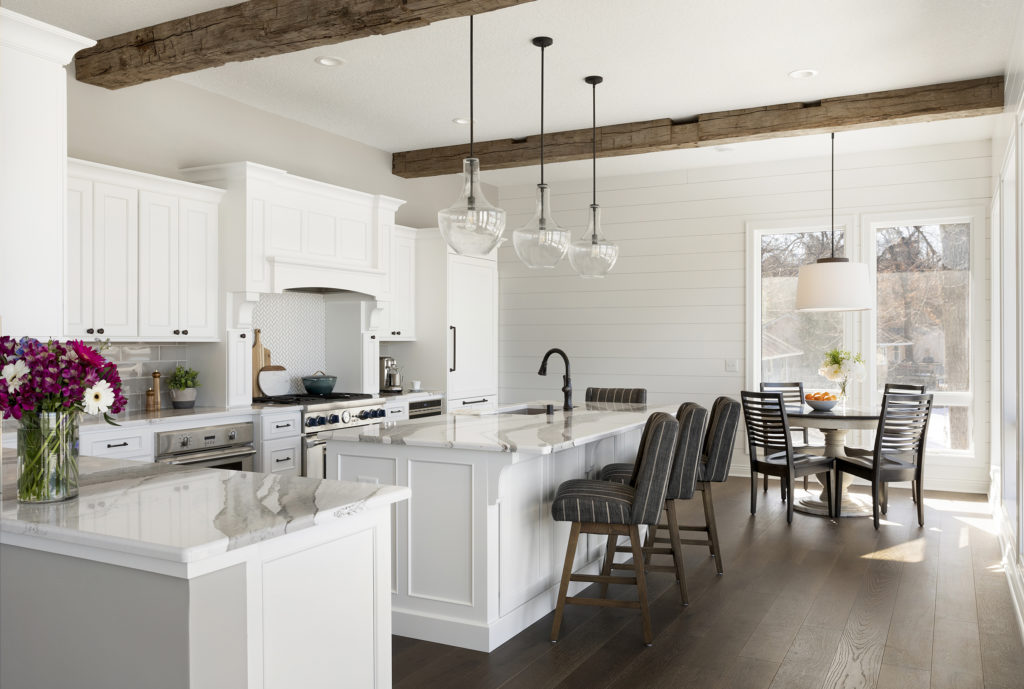 7. Modern lighting finishes: Complete your kitchen with a spark
Help your home keep up with modern trends that will last for years to come. One of the most popular kitchen design essentials these days is modern lighting and light fixtures because they add style and brightness to the heart of your home. After all, kitchens are meant to be a welcoming place … and proper lighting can make a world of a difference for both cooking and hosting.
Use these popular, modern ideas to find the perfect finishing touch on your dream kitchen.
8. Built-in refrigerator: Go big … because why not?
When it comes to designing a dream kitchen, you have to go big! To be fair, you never truly know how big of a refrigerator you need until you know. When that time comes, there's no going back!
If you've got a growing family, or you love to host, then you understand the struggle. There's simply no other option than to find a refrigerator that can hold every dish, prepped meal, large grocery haul, and endless beverages — without losing an item or two in the very back! To get you on the right track, consider the top 10 refrigerators of 2020!
9. Additional seating space: become the ultimate host
Every kitchen remodel should be focused on convenience and expansion. Added seating space does both! The kitchen is the heart of the home, it's where you have little moments with your family and huge celebrations with friends and neighbors. Either way, you want everyone to feel comfortable and, well, welcome.
There's no better way to accomplish that than for them to have room at the table, or counter, or breakfast nook — so make sure you've got an abundance of all three!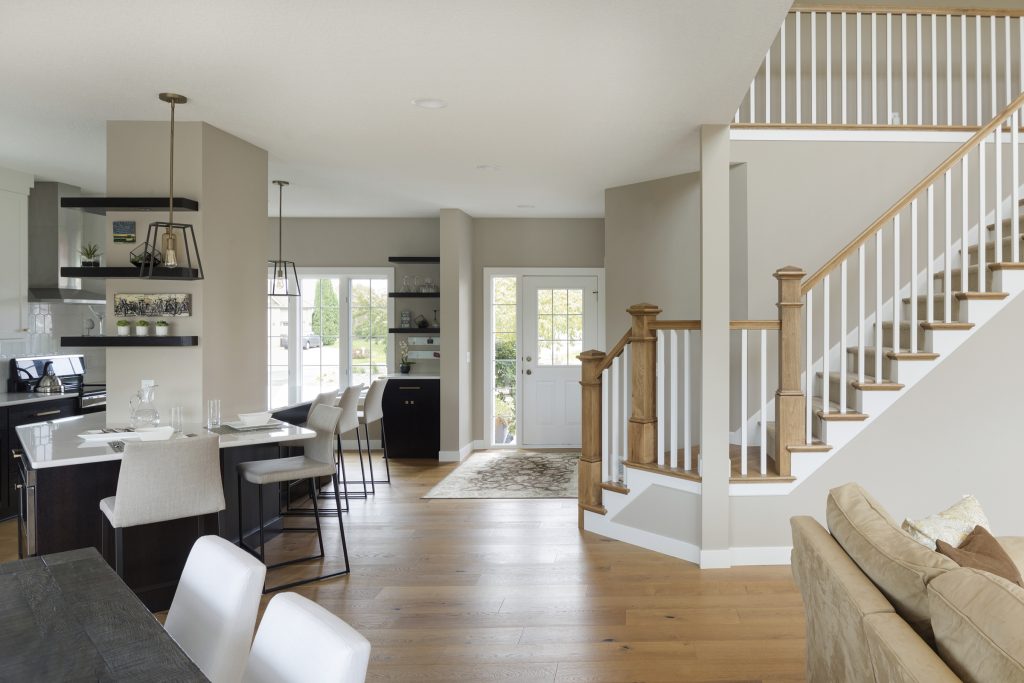 10. One-of-a-kind appliance housing: Hide your cooking secrets
You may use certain appliances every day like your coffee machine, slow cooker or even air fryer. But that doesn't mean they have to be out on show for all of your guests.
When it comes time to hide your cooking secrets or your coffee machine and all the fixings, you'll want convenient storage that hides them away and keeps them from taking up space. Consider these ideas to get started:
Slide-down cabinets
Specific space or cabinets in your pantry
Deep cabinet drawers that are easy to reach
Cabinets that meet your countertops with easy-close door
Inspired to start your kitchen addition or remodel?
You may only get one try at your Minnesota modern dream kitchen remodel project — so make sure it's done flawlessly the first time. Stop by our showroom in Edina or Woodbury to get a feel for the Ispiri experience, or contact us today to step up a free consultation!