How Minnesotans Can Redesign Their Awkward Kitchen Layout
The kitchen is one of the most utilized areas in a home. It's where families gather for meals, celebrate a birthday, and where kids do their homework. Having an awkward kitchen layout can get in the way of these occasions from happening or make it more difficult to use the space than necessary. An outdated style and dysfunctional design can be a source of frustration.
It's time to start fresh. First, let's talk about shapes and the geometry of your space.
What are the 5 primary Kitchen layout shapes
One-Wall Kitchen Layout
Corridor or Galley Kitchen Layout
L-Shaped Kitchen Layout.
Double-L Design Kitchen Layout
U-Shaped Kitchen Design Layout
Now that you know your layout, let's start brainstorming better ways to utilize this space.

How do I redesign my kitchen layout?
One of the most common kitchen layouts is the wall between the kitchen and the dining room creating two separate spaces. It's time for it to go.
With the wall gone, it gives you the much sought after "open concept feel." This space allows the designers to arrange the kitchen to allow for a center island: the perfect element to huddle the family around in the morning, afternoon or post-dinner board games. You can also store pots and pans in the island.
Knocking down this wall also increases the size of your kitchen while creating a better sense of continuity between the cooking and eating spaces. This also allows you the space to add furniture for storage and serving, like a hutch or buffet table.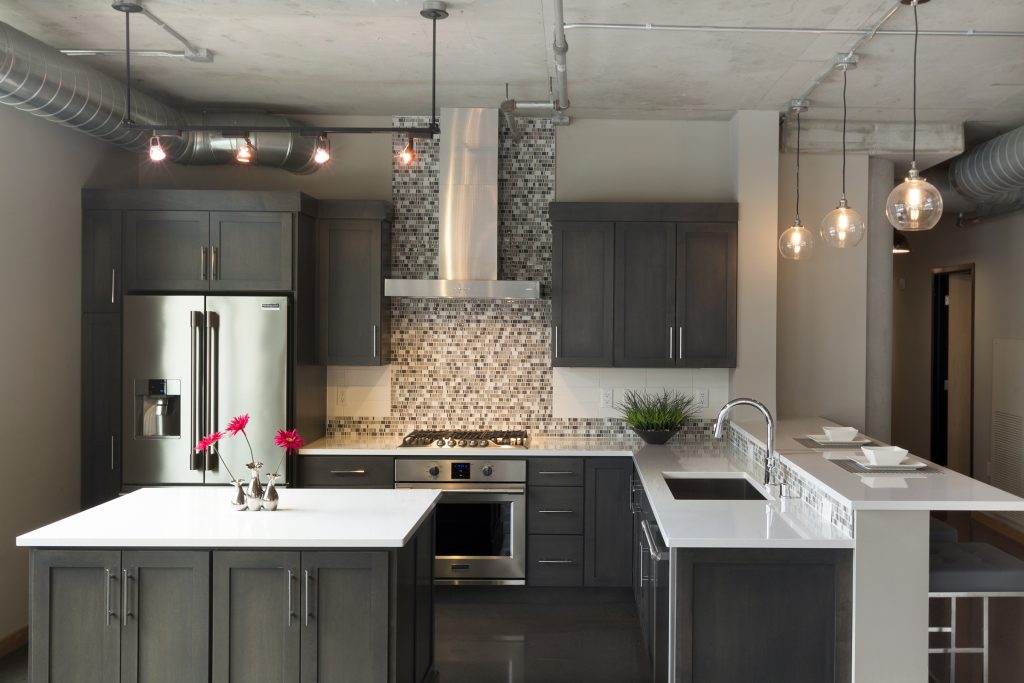 Kitchens that are L-shaped or compact lack the open concept living space you might be looking for. We suggest knocking down the wall between the kitchen and dining room to fix this awkward kitchen layout.
The open concept kitchen layout is the goal here. Who doesn't love more space to move around and allow families to conversate without walls in the way? This is where our custom kitchen designers thrive.
Try going with quartz countertops and tiled backsplash to make a great partnership with wooden cabinets that are easy to clean. Don't forget to include flooring with a strong finish to resist scratching.
Corridor or galley kitchen layout is one of the standard kitchen layouts that decades of ergonomic research developed. Science is great, but try getting two people together in this kitchen and you're constantly in each others way.
There are several ways you can optimize space with this layout. Moving the microwave from above the range to a base cabinet allows for more cabinet room above the kitchen stovetop. In-cabinet trash bins can allow you to conceal garbage and recycling.
Our designers have reconfigured many of kitchens in the Twin Cities. If you're looking to fix your awkward kitchen layout, contact our team and start making plans for your future kitchen.